October is Fire Safety Month: The Hidden Threat: Asbestos Exposure
Oct 01, 2020 08:59AM ● By Editor
Photo: Asbestos.com


From Asbestos.com - brought to you by the Mesothelioma Center - October 1, 2020 
How Is Asbestos a Risk During a Natural Disaster?
A large number of homes and commercial buildings constructed prior to the 1980s were built with asbestos materials. Those products are considered safe as long as they are in good condition. But once ripped, broken, burned, blown or washed away, the products release toxic asbestos fibers into the air.
Breathing in these fibers in the aftermath of a natural disaster can lead to serious health conditions years later. The more someone is exposed to asbestos, the higher their risk of developing asbestos-related diseases such as mesothelioma.
Natural disasters pose dangers from the moment they occur. People don't often consider health risks after a tornado rips through their neighborhood or a flash flood destroys their personal possessions. 
71% of Americans surveyed did not know natural disasters increased their risk of cancer.
Source: The Mesothelioma Center at Asbestos.com, 2019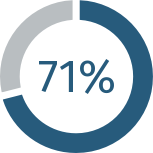 Asbestos exposure isn't an immediate danger such as live electrical wires, gas leaks or unstable infrastructure. It also isn't as apparent as more obvious health risks such as black mold. Asbestos fibers are microscopic and travel by air or in clouds of dust, so you can be exposed and not even know it. 
It is essential to consider and properly prepare for asbestos exposure prevention when planning for natural disasters and severe weather. Knowing how to keep safe from asbestos after a disaster can help prevent health conditions later in life. 
Who Is at Risk of Asbestos Exposure During a Disaster?
As the first people on the scene, emergency response crews and early response volunteers face an increased risk for asbestos exposure in the wake of a natural disaster because of all the debris. The risk of health effects increases over time and depends upon frequency and amount of exposure to asbestos to these workers.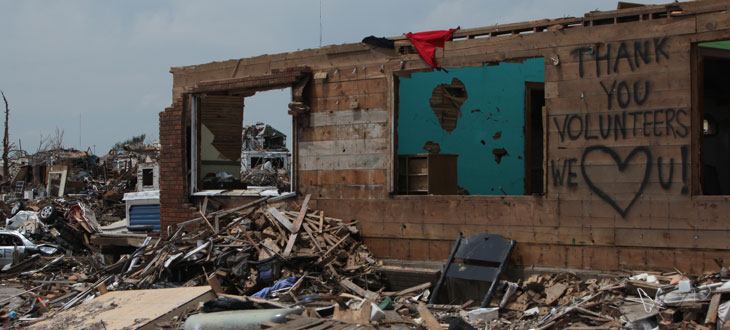 A thank you message for volunteers is written on a wall after a tornado destroyed Joplin, Missouri, in 2011.


Top First Responder Occupations at Risk
Firefighters

Law enforcement officials

Emergency response workers (FEMA, American Red Cross, etc.)

Enlisted military (Coast Guard, Navy, Army, etc.)

Cleanup crew members (private contractors, state and local agencies, volunteers)
Homeowners of damaged properties also face these risks and should always use caution when cleaning or searching through debris.
To learn more about the hidden danger of asbestos exposure, follow these links. 
asbestos.com/asbestos/natural-disasters/
asbestos.com/mesothelioma/