All or nothing: Parts of Minnesota in flood, others still in drought
Jul 31, 2020 05:59AM ● By Editor
Excessive rain caused flooding in June 2020 in northwest Minnesota. This road in western Kittson county was flooded several times.   Photo: Courtesy of Kittson County



By Paul Huttner of Minnesota Public Radio News - July 30, 2020


Widespread rainfall has eased drought areas across central and northern Minnesota. But two primary zones in Minnesota remain in drought. Western Minnesota in a zone around Browns Valley, Ortonville and Morris is still in moderate drought. There is also moderate drought in areas around Duluth, and in Cook County from near Grand Marais into the BWCA.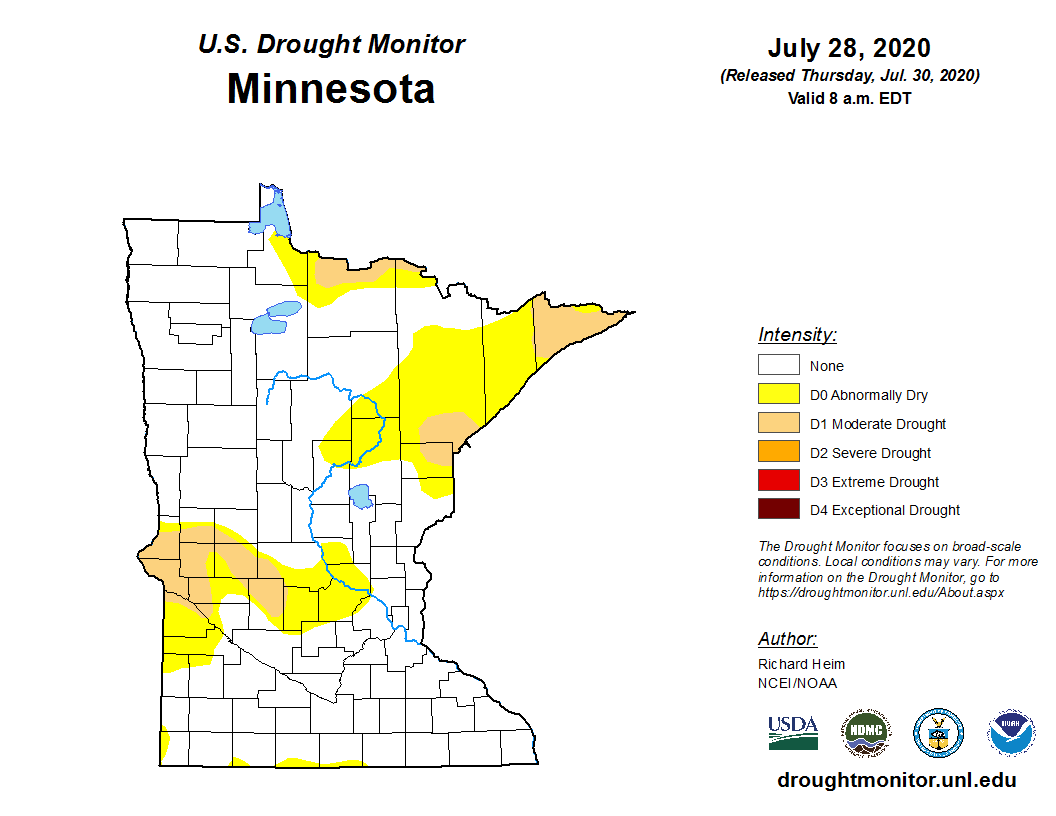 U.S. Drought Monitor for Minnesota
USDA/UNL
Here's a look at Midwest rainfall totals over the past 30 days. Abundant to torrential rains have favored the northern half of Minnesota and Wisconsin.
Thirty-day precipitation Midwest totals
Midwest Regional Climate Center
Torrential rainfall zones
Persistent and localized thunderstorms zones have also set up over the past 30 days. parts of the northern Red River Valley into northwest Minnesota have picked up 10 to as much as 20 inches of rain this summer.
30-day precipitation 
NOAA
Highly localized rainfall
It's typical to see local rainfall variations in convective summer storms. But this summer has exhibited some extreme rainfall differences across small areas.
Case in point? Last week's mega rain dumped more than 6 inches on a zone around Mankato. But areas just 20 to 30 miles north and east have picked up less than 2 inches of rain in the past month.
30-day precipitation  NOAA
So it's been all next to nothing for close-by towns with our summer rainfall this year.